Youtube content can't be displayed with your current cookie settings. Select "Show Content", to view content and agree to the Youtube cookie settings. Get more info in the Youtube Privacy Policy. Opt-out here at any timecookie setting.
Show Content
DIGITAL JIU JITSU MANIFESTED
BJJLINK's features are endless & growing. From finding nearby gyms, open mats, learning techniques, watching highlights, & much more
BJJLINK HAS FEATURES & TOOLS DEDICATED FOR YOUR JIU JITSU GROWTH
Read about just a few of the features & tools that are available at your disposal in BJJLINK. Even more are headed your way
Utilize, view, and upload jiu jitsu videos in our library. You will find techniques, highlights, interviews, and more. All curated and collected by the BJJLINK community!
FIND GYMS & ACADEMIES GLOBALLY
BJJLINK has gyms registered and managed worldwide. You will be able to browse through a gym's location, class schedule, reviews, and more!
DIGITAL TECHNIQUE JOURNAL
Add notes after class or on the fly with the BJJLINK Journal. You can tag by technique, class, or anything you want for easy filtering and search-ability.
FIND JIU JITSU EVENTS NEAR YOU
Need to find an open mat? No problem. How about an upcoming tournament in your city or a neighboring one? BJJLINK has your back.
FLEX YOUR JIU JITSU ATHLETE PROFILE
Display your team proudly. How about your competition results? Medal chasers: show off your jiu jitsu competition accolades. Keep track of your belt progress with exact dates you got promoted. The list goes on and on.
INTEGRATED SOCIAL NETWORK
See the difference between a generic social network and one that is built entirely for jiu jitsu. We are a tightly knit global community shared by our passion for this martial art & sport. Connect with those who live and breathe the same lifestyle you do!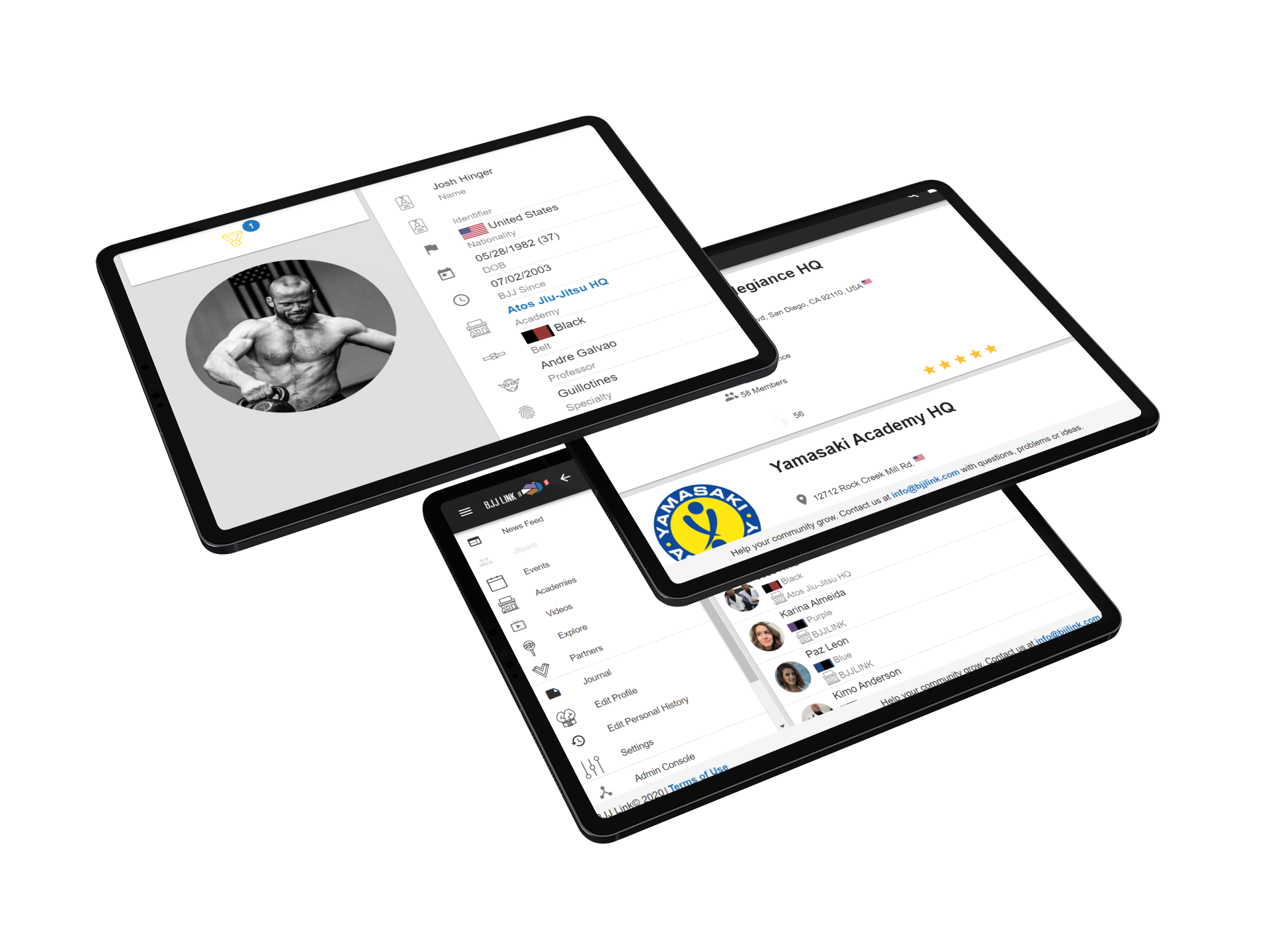 A SOCIAL NETWORK DEDICATED TO YOUR JIU JITSU JOURNEY
Display your competition history, belt, team, lineage, and more
Explore & find academies globally
Connect with fellow teammates, rivals, & even BJJ superstars
RETHINK YOUR JIU JITSU JOURNEY
Jiu Jitsu is not a journey we venture alone. So join jitsers worldwide on BJJLINK for free today! Also available on iOS and Google Play.